Steve Duno is the author of Last Dog On The Hill (St. Martin's Press, 2010), the winner of the 2011 IBA Award for best Pet Book!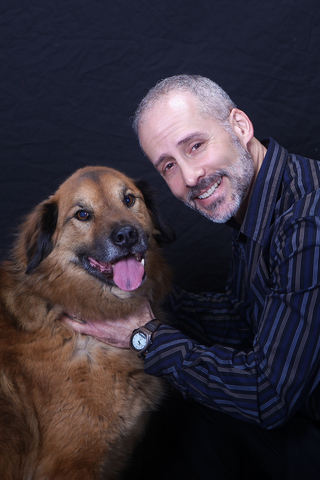 "If Jack Reacher had a dog, he'd be Lou. If Jack Reacher was a dog, he'd be Lou."
-Lee Child

"Lou's story is an emotional and deeply felt tribute to the powerful bond between dogs and humans. LAST DOG ON THE HILL will make you long for that one special super-dog that can truly change your life. We should all be so lucky to have a dog like Lou in our world."
-Garth Stein, author of The Art of Racing in the Rain

"Last Dog on the Hill is a wonderful mixture of humor, heartbreak, and high jinks. I couldn't put it down. Lou will steal your heart."
-Janet Evanovich, New York Times bestselling author of the Stephanie Plum series

"Everyone needs to experience a dog like Lou; and every dog needs a person like Steve Duno. LAST DOG ON THE HILL is one of those rare animal memoirs that isn't sentimental, yet moves the reader to tears as easily as laughter. It also makes me wonder how many vocabulary words my dog knows."
--Susan Wilson, author of One Good Dog

"There's nothing whispery or mysterious about the connection between Steve Duno and his remarkable Rottweiler mix Lou. It's a full-voiced love story, a vigorous tale of rescue and mutual redemption, and an eloquent human-canine conversation that grows richer and deeper through the years. Last Dog on the Hill reminds us not only how much dogs can learn, but more importantly, how much they can teach us about the things that really matter -- loyalty, honor, hard work, and plenty of sheer delight."

-- Steven Winn, Author of Come Back, Como: Winning the Heart of a Reluctant Dog

"There are so many accounts and testaments that verify beyond doubt that a dog is man's best friend. What makes this story special is that Lou, in terms of fate, was destined for a rough and unspectacular life. Lou and Steve found each other by sheer chance. Lou's life was richer for being Steve's dog, but the real twist of fate is how Steve's life and the lives of all those who knew Lou, were enriched forever."
--Nuala Gardner, author of A Friend Like Henry: The Remarkable True Story of an Autistic Boy and the Dog That Unlocked His World

"Steve Duno manages to inspire and touch the heart in a story about a hero dog that is, quite frankly, impossible to forget."
-Mandy Stadtmiller, New York Post

"Once in a generation a dog comes along that changes the way we think about life. Lou was that dog. Of the thousands of dogs I have known, Lou had the most- soul." -Steve Duno
Steve training dogs for Seattle Channel's "City Stream" television show, with Penny LeGate

Seattle Channel Video can be played in Flash Player 9 and up
Steve Duno's LAST DOG ON THE HILL, the story of a feral pup, who, born of guard dogs on a Mendocino marijuana grow, would grow up to catch rapists, foil armed robberies, teach sign language to kids, comfort dying vets, win his owner a job, and save hundreds of other dogs' lives, to St. Martin's, for publication in spring 2010, by Jeff Kleinman at Folio Literary Management (World).
-Publisher's Marketplace

Excerpt from Chapter One:
The essential crime committed against all dog owners is born of the love we hold for them, which, like the love of a child, runs deep. No parent should have to bury a child, they say, but that is what we dog owners must do, not once, but time after time, throughout our lives. While we remain unchangeable to their sweet eyes, they run from birth to the grave in an instant of our own measure. They burn like kindling, and though we know we can never replace one dog with another, we keep trying, in hopes of reviving hints of some great dog gone by. No; they are not children we bury. But dogs like Lou come close. They come very, very close .